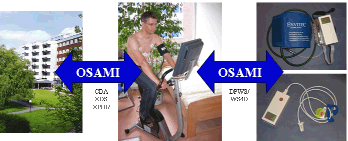 The goal is an open source software platform that supports flexible, adaptable, collaborative, reliable and distributed device-based applications. In particular, it enables healthcare applications and is demonstrated and tested with a comprehensive application for outpatient rehabilitation of cardiac patients.
Technically, flexible device-based embedded systems are enabled by self-managing service-oriented software. For this purpose, the local service orientation approach OSGi is combined with the distributed approach of web services, especially DPWS. Emerging open source components make embedded OSGi systems web service-enabled and distributed in a flexible way interoperable. Further, open source components are emerging for policy-driven monitoring, customization, security, and self-management of systems along with a policy design and configuration planning tool so that applications can be configured and managed in an automated, user-friendly, and convenient manner.
The results enable efficient development and stable operation of sophisticated healthcare applications. They facilitate access to an important market.